Meet Emoteph, "Dark and Handsome"!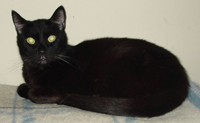 Emoteph, named after the Egyptian God. Emoteph is a black neutered male, approximately 9 years old. Tall, dark, and handsome. Who needs "Joe Millionaire" when you can have this debonair, swashbuckling, romantic stranger to sweep you off your feet? Emoteph is an affection hound and just wants to spend all of his time making you happy.
But his beautiful face is in danger! He is currently being treated for stomatitis and gingivitis and his teeth are in pain! To recover, his teeth need to be removed. Don't worry, he will still be able to eat afterwards though.
After surgery he is available for adoption! Call Caregiver Kathy Metoxin: cell-(714)865-3231 to discuss Emoteph
We need donations for the cost of his surgery!
Please send donations to:
"Emoteph's Teeth"
Community Animal Network
P.O. Box 8662
Newport Beach, CA 92658
Non-Profit Fed Tax ID #33-0971560
---